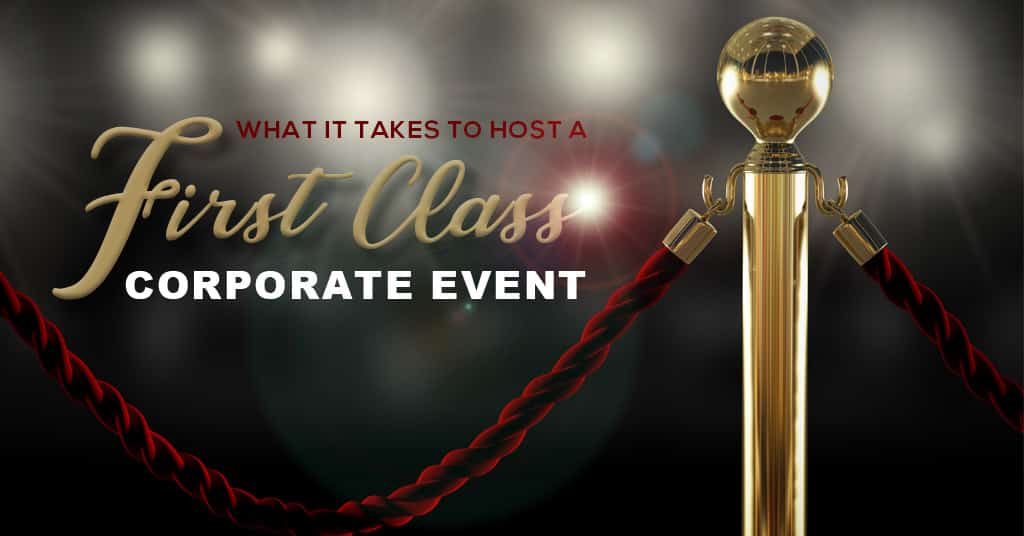 What It Takes to Host a First-Class Corporate Event
Creating a first-class corporate-level event is a multi-faceted process that takes time, effort, coordination of many different vendors, and patience. The purpose of our service—Top Event Ideas—is to help you partner with some of the best in the industry to help produce your vision and make it a reality. We have the right connections to help you move through each phase of the planning process! If you had a gala for a non-profit with a Broadway star in Washington, DC, a hip-hop artist for a high-tech company in the Bahamas or a conference in Vegas with headline speakers, you would likely use different event planners, DMC's, booking agents, and production companies in each case to create the best guest experience and reduce expenses.  With over 20 years' experience in the music and event production industry, we can find you great options in every category to ensure the success of your event.
The types of corporate and private events we help coordinate are typically trade shows, galas, conference events, product expos, social gatherings for clients and employees, private upscale events for country clubs, and high-wealth individuals.
Events that we can help with:
Product Expos
Corporate Entertainment
Product Launches
Employee Training
User Events & Conferences
Board Retreats
Focus Groups
Sales Meetings
Seminars
Social Gatherings
Banquets
Team Building
Leadership Retreats
There are 4-5 different services you may need for an event. The biggest mistake in first-class corporate events is hiring on type of "the Big 4" services and then having them hire the other services you need. This would be like hiring a plumber for your kitchen remodel and having him bringing in the electrician, the carpenter, etc. You need a higher-level oversight like a general contractor. Top Event Ideas is similar to a general contractor, we understand all the parts to an event and can guide you through the entire process of selecting your "Big Four" service providers.
Who Are the Big Four Event Service Providers?
Event Planning
Finding an event planner or agency is arguably the first step to planning your event. Hiring the right planner doesn't have to be a stressful task. Top Event Ideas can connect you with a variety of options to best suit your needs. Generally, an event planner will be able to help you with choosing the right venue, the décor, the food, and drink, as well as ensuring guest registration and other guest details. Event planners will work with the other services to ensure your event turns out to be the success you desire.
Strengths: Décor, Food and Beverage, Venue, Guest Services
Event Production Services
Event planning and event production services are often thought of to be the same thing under a different name; however, this isn't usually the case.  Event Production Services provide your audio/visual (AV) equipment, video production, sound, special lighting, and special effects as well. They frequently will work with the Booking Agent to arrange the backline need for a musical act as well, although sometimes a backline company will this service.
Strengths: Audio/Visual, Lighting, Stage Management, Show Flow
Booking Agents
Your event production service may offer live entertainment options such as Rock bands, Broadway stars, magicians, speakers, cirque acts, etc. and this is where your booking agent comes in. They specialize in finding entertainment options for you and booking the entertainment you would like at your event. Booking agents fill many roles for musicians and event planners alike. Booking agents can either work for production service companies, venues, or the specific musician/artist that may be up for hire.
Booking agents take the legwork out of working with an artist to ensure their rider (a list of artist's requests/demands to be available at every stage of the event for them to perform) is met. The rider and contract will have all the terms regarding travel, hotel requirements, backstage requirements, and equipment requirements. A booking agent fully understands those requirements and what can be negotiated and what cannot (there is almost always is room for negotiation). They communicate with the artist about event expectations and the schedule. They also manage the contracts for the artist to make sure everybody is paid within a timely manner, etc.
Strengths: Negotiating with Entertainment, Booking the Entertainment, Making sure that all requirements are covered so both you and the artist are happy.
Destination Management Companies
A Destination Management Company (DMC) handles travel logistics for an event. This can include:
Handling hotel accommodations and registration
Handling guest activities at a location such as private tours and site seeing
Provide concierge-type services for your guests
Handle air and ground transportation of guests
Typically, when a DMC is used for a long-distance corporate event, it will be for a multi-day event with meetings, conferences, team-building activities, and more.
Strengths: Onsite guest services such as hotel, concierge, airport transfers .
Common Mistakes when Planning an Event
Not getting multiple bids for production services. Some events, using several production companies can actually decrease your cost (one might specialize in audio, another in video, another in backline). We can generally save our clients 10-20% off a final production quote just y doing a quick audit.
Hiring an Event Planner to handle the entire event that doesn't negotiate well or is getting kickbacks from other providers. This will generally cost you an additional 15-20%. If possible, use your event planner to coordinate the other services, but you hire them.
Location Fees! Many hotels are tied in with certain providers or union contractors. You should negotiate as much production as you can upfront. This can be a very costly mistake. For example, we recently attended an event that we could have helped produce for around 20k at another location in New York City, but at the location that was chosen, they were stuck with many hotel costs and the event totaled over 60k!
Not negotiating with entertainment: Private planes, crazy backstage rider requirements, fees, length of show, etc. You generally can work with many artists and they will work with you, but if you don't have a good booking agent that knows what can and can't be negotiated you will get the short end of the stick. We worked with an artist that performed for one event where he flew on a private plane for $250k and the following week did the exact show for $175k and flew first class. Why the discrepancy? The second show had a knowledgeable booking agent available.
How Top Event Idea's Services Work
If you are looking for a recommendation for a single service, we provide that to you just for asking. This is one of several free services we offer. For example, we have relationships with over 60 national production and event planning companies and will gladly recommend the right one for you. Some are better at some types of events because one-size does not fit all!
For an hourly fee, we can help you find
Production Artists
Contract Reviews
Negotiation tactics
Event consultation
Literally, for a few hundred dollars, you can save thousands of dollars. We see people waste so much money on events and it makes us cringe because it is so simple to avoid. Let us help you with oversight.
Corporate Event Wrap-Up
Planning an event of these proportions is anything but easy. We believe that having a proper team in place and being in touch with the right industry people can take something challenging and time-consuming and allow it to run like a well-oiled machine.