Black Hawk Helicopter Pilot and author of The P.I.L.O.T. Method, Elizabeth McCormick travels the globe to share her story. As a professional speaker, she provides keynotes at conventions, association meetings, conferences, and corporate events. Her story is empowering, uplifting, and relatable even if her experience is vastly different than most. She uses her time as a Black Hawk helicopter pilot and Chief Warrant Officer for the U.S. Army to inspire others.
As a pilot, Elizabeth has flown air assault & rappelling training missions, VIPs like Generals, Governors, and Congressmen/women, Command & Control battlefield management operations, and military intelligence missions. She had a passion for her career and loved serving the United States; however, she suffered a career-ending injury and was forced into medical retirement. In true Elizabeth fashion, she could have just stopped there, but instead, she chose to take her story to the people and inspire others.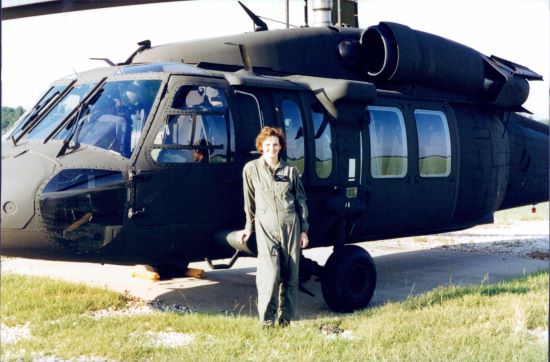 With Elizabeth McCormick on your event stage, your audience will be entertained with a boost in confidence and energy. She books over 100 engagements each year so be sure to book her ASAP. She's in-demand and ready to inspire your audience today.
Her most requested motivational and entertaining keynote is called "YOU. In the Pilot's Seat." In this keynote, she shares her professional development secrets for success and how to overcome obstacles. Her other keynote options include a management motivator that highlights important leadership skills, or the "Stay Alert- Stay Alive" option which teaches how to encourage and emphasize safety measures. She offers a workshop training model as well called "The P.I.L.O.T. Method" where she reveals her business success formula from her book. This session is highly interactive and she promises you will leave feeling reignited with a passion for your career, driven to lead yourself to a higher level of success, and focused & energized! Not only does she offer several different keynotes, but they are also fully customizable too!
Elizabeth has been hired to be an opening and closing keynote speaker, business seminars, association conferences & conventions, sales kick-off meetings, executive retreats, leadership team meetings, women's conferences, college conferences, training events, and more.
People who have worked with Elizabeth McCormick will tell you that she's very hands-on when preparing for a presentation. She will speak with you before the event to make sure she's offering content that aligns with your vision while adding her own unique flair. She will also develop a video for you to send your guests when they sign up for the event to let them know what they have to look forward to and even write a blog for your announcement/newsletter about the event and what she's all about.
Her level of dedication to your event doesn't end the second she's done speaking. She'll stay for the duration of the event to pose in photos with your guests and even when that's over, she'll stick around or be available for a post-event conference call to help you emphasize the learning from your event.