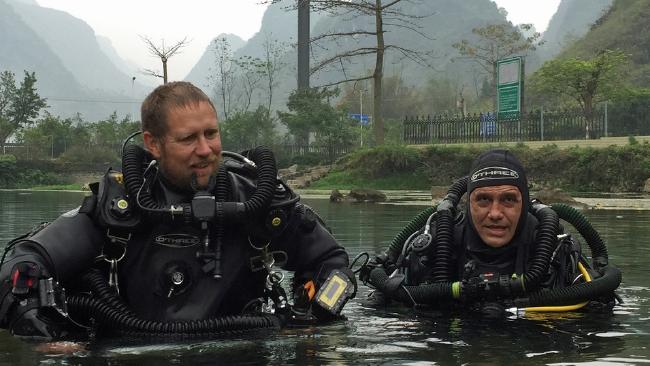 We selected Dr. Richard Harris and Dr. Craig Challen for our list of Top Ten Artists & Entertainers because they offer a unique story that not only is recent, but one that was all over the news. Their display of bravery in a time of need for 12 helpless boys is something to celebrate. The two brave men are highly success in their personal and professional lives even before they were made famous by their show of heroics when they saved the boys in the Thailand cave.
Dr. Richard Harris is called "Harry" by those who know him. He works in anesthesia and aeromedical retrieval medicine in South Australia. Harry has been training for diving missions for some time. His passion began back in the 1980s and has led him around the world in search of new adventures.
Harry has dived with the Wet Mules for some time and with them he has explored some of the world's deepest caves including the Song Hong Cave in Thailand to 196m, the Daxing Spring in China to 213m, and the Pearse Resurgence in New Zealand to 229m. He is always looking forward to new adventures and the thrill of being an underwater photographer and videographer with his helmet's camera.
Dr. Craig Challen is also an Australian cave explorer and like Harry is a member of the Wet Mules. Craig has an avid interest in shipwreck diving and has explored sites over the last 15 years in the South China Sea, Solomon Islands, New Zealand, Australia, Thailand, and Indonesia.
Some of Craig's notable explorations include the extension of Cocklebiddy Cave on the Nullarbor Plan of Australia in 2008 and the Pearse Resurgence in New Zealand over the last 10 years.
Craig is a retired veterinary surgeon. When he's not somewhere exploring the deep blue sea, you can probably find him flying overhead in either a helicopter or airplane.